Holiday Flowers: Going Beyond Poinsettias
Poinsettias are the quintessential holiday flowers and popular choice for Christmas-themed interiorscapes. Their brightly-colored foliage remains beautiful throughout the season and beyond. But these ubiquitous flowers are certainly not the only choice for corporate floral decor.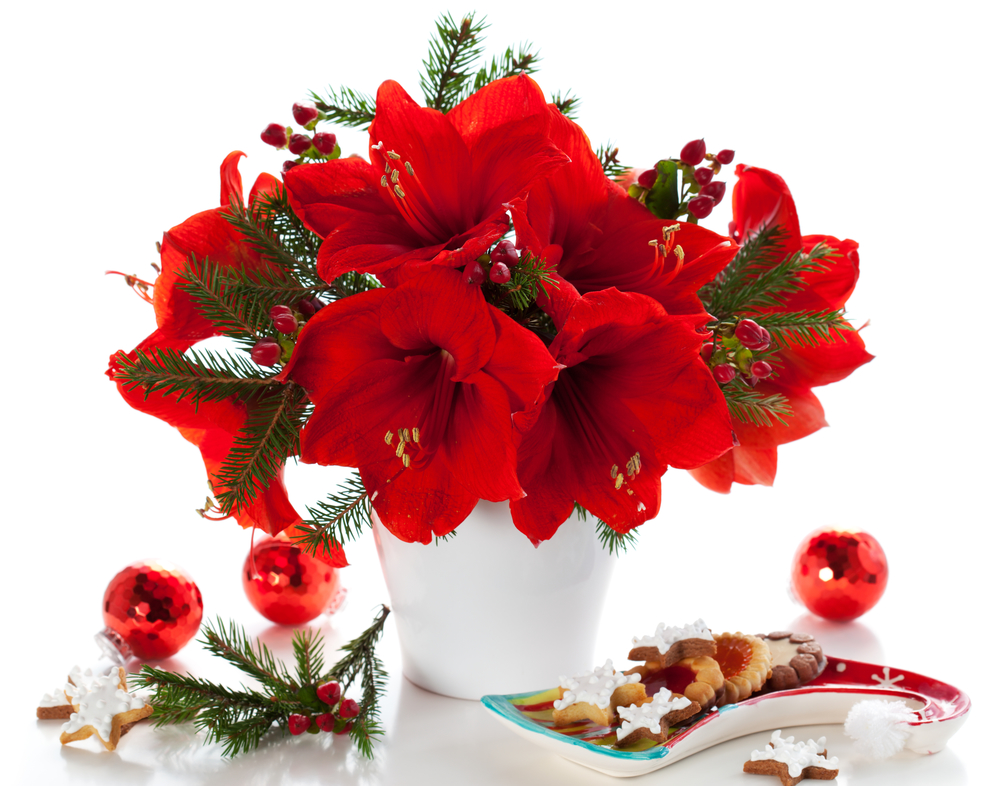 In fact, many other flowers and plants can provide your office with a fresh and festive look. This year, when ordering corporate holiday flowers for decorating your office or as gifts for clients, consider choosing of these fresh and fun alternatives.
Bold Red Holiday Flowers Enhance Your Interiorscape
Red is the classic color for Christmas decorations, which is one reason that traditional poinsettias are so desirable this time of year. Why not enjoy the same dramatic hues with other seasonal flowers?
Amaryllis is a tall, graceful holiday plant with huge, trumpet-like red flowers. Some varieties offer dramatic white, variegated stripes to enhance the rich red. Amaryllis is also prized for its simplicity. Simply placing a few stems in a pitcher or vase creates an elegant holiday flower centerpiece.
To pack more color in your festive decor, you can select arrangements of red roses, gerbera daisies, dahlias, carnations or tulips. To add festive accents to your interior or exterior planters, sprigs of winter berries add an understated dash of holiday color.
Brilliant White Holiday Flowers Add Contrast to Your Office Plants
White blooms offer the perfect contrast to vibrant red flowers in your holiday arrangements. Classic varieties, including roses, carnations and dahlias, are available in white throughout the winter season. Combining red and white versions of a single flower variety creates an eye-catching display, especially when accented with shiny, deep green foliage.
If you prefer something more exotic, you can beautify your interiorscape with arrangements of stark white lilies, fluffy hydrangeas or bunches of tall, bright paperwhites. Star of Bethlehem flowers and white moth orchids can also add holiday elegance to any space.
With so many exquisite and elegant white holiday flower varieties, you may want to consider a dazzling "White Christmas" theme for office flowers or for your company's holiday party or open house.

Greenery and Decorative Accents for Holiday Floral Arrangements
Whether you choose red or white blooms – or both – accents and greenery provide balance and depth to floral displays and interiorscapes. Christmas trees, wreaths, swags and garland are classic favorites in holiday décor. Pine, spruce and fir are common choices, but you can also select cedar, boxwood, holly or ivy to create office floral displays rich with seasonal scents.
Natural decorative elements add color and interest to your fresh greenery. Pinecones, acorns, cinnamon sticks and berries are simple and enduring choices to accent your interiorscape, or you could select the more contemporary option of fresh eucalyptus.
Tasteful ornaments and decorations, including bows, ribbons and lights, can help liven up your holiday parties and floral arrangements. And, if you like to add a touch of fun, we can always add classic or colorful candy canes (or a few sprays of mistletoe) to your holiday floral arrangements.
The professional plant services experts at Living Creations encourage you to order your Christmas floral arrangements as soon as possible, to ensure that you reserve your spot during this hectic season. We offer design, installation and professional care for office plants, interiorscapes and outdoor planters. Contact us today with any questions you may have, and to order your holiday flowers.