Why Live Office Plants Surpass Artificial Plants
Live office plants are one the best ways to add life and vibrancy to your business.
Many business owners and managers – particularly those who don't have green thumbs – believe that plastic or silk plants are a good alternative. But, when you break it down, living office plants are the only sensible choice for enhancing the décor of a business or office space.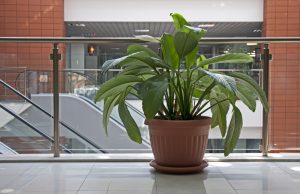 Here are four persuasive reasons why.
Artificial Greenery Looks Fake
Have you ever been dazzled by the beauty of an artificial plant? From a distance, silk and plastic plants might look real but, up close, anyone can easily see that they're not.
Even the most expensive artificial greenery doesn't fool anyone, and using them won't impress visitors to your business. Plus, in today's environmentally-conscious world, fake plants have become a bit unfashionable.
Decorate with living plants instead, and your clients or customers will leave with a better image of your business.
Artificial Greenery is Not Sustainable
Speaking of the environment, plastic and silk plants are not sustainable.
While many are made to last, they don't have a long lifespan as office décor. After a few years (or months, if they are exposed to the sun), artificial greenery begins looking old, faded and tired. Rather than adding beauty to your business space, they only feature faded leaves and oddly-bent stems – and they end up getting thrown away.
Live plants, on the other hand, are sustainable. With proper care, they'll get bigger and better-looking, year after year.
Live Office Plants Improve Air Quality
Are you familiar with sick building syndrome? 
Spending dozens of hours each week in a polluted office space can lead to ill health. Victims have been known to experience chronic headaches, nausea, respiratory issues and other lingering symptoms.
The cause of this condition is not yet understood, but scientists have determined that using live office plants can reduce or even eliminate the effects of sick building syndrome.
Artificial greenery doesn't have this same effect, as it cannot filter impurities from the air. And, in fact, some artificial plants – particularly those made in China – are made using fire retardant chemicals, glues and other materials that could potentially be harmful if you are exposed to them over long periods of time.
What About Plant Care Costs?
Some business owners believe that silk or plastic greenery is a better economical choice, but this simply isn't the case.
Artificial and living office plants both require ongoing maintenance. The care is different, of course – dusting and cleaning versus watering and fertilizing – but regular attention is a must for both. Whether you go live or artificial, someone will need to take care of the office plants to keep them looking their best.
What if you don't have the time or gardening skills to care for live plants? That's where an interior plant service comes in.
For an affordable fee, your plant service will take care of everything for you. You can take advantage of professional assistance for plant selection and installation as well as the ongoing professional care for your greenery.
Living Creations is the leading professional plant service in Northern Utah, serving local businesses for more than 20 years. To discuss adding live office plants to your business, contact us to schedule a free consultation today.