What to Expect from Your Office Plant Service Consultation 
A professional office plant service can transform your work environment into a healthy, naturally beautiful space.
Adding the perfect live plants to your business spaces really couldn't be easier – and you won't have to lift a finger to keep them healthy and gorgeous – if you choose to work with a professional office plant services consultant.
If you have never worked with an office interiorscape service before, Living Creations, Utah's premiere interior landscaping company, offers free consultations to businesses throughout the Salt Lake Valley area.
Here's what you can expect on the day of your consultation.
Touring Your Office Facility
When we visit your business for an office plant service consultation, we look forward to taking a guided tour of your facility.
As we do our walk-through, we'll examine the building's architecture and the lighting conditions throughout the space. We'll also check out the existing interior design elements, paying special attention to the colors and textures used. During the tour, we'll take photos for later review.
The reason for the office tour is to plan an effective interiorscape design. To accomplish this, we need to understand your office growing environment. The walk-through also allows us to identify areas where live plants will have the biggest design impact.
Discussing Your Needs and Preferences
After the facility tour, we will sit down with you for a quick chat.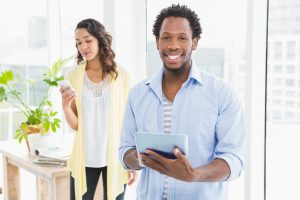 Our interiorscape professionals want to understand your tastes and design preferences. So, we'll talk about the types of live plants you like and dislike. We will also discuss the types and sizes of plant containers that would work best in your office spaces but we want your input on the materials and colors you envision for your interiorscapes.
We will also take plenty of time to review your budget. Working with an office plant service can be surprisingly affordable and, as long as we know your budget constraints, we can work within those parameters.
Creating a Custom Interiorscape Design Plan
After our meeting, we will prepare a custom design plan for your office interiorscape.
In creating our design, we will consider the layout and décor of your facility, as well as your design preferences. The live plants and plant containers chosen will reflect your company image and personality – and they will fit into your budget.
Once our plant service designers finish the office interiorscape plan, we will find a convenient time to review the proposal with you. At that point, you'll get a chance to see digital images of the exact plants and containers we plan to use.
Not quite on board with everything we recommend? No worries – we're happy to make changes. We want you to love your office plant design, and we'll work on the plan until it's a perfect for your business.
Are you ready to explore your interiorscape options? Living Creations takes pride in offering superior service and high-quality live plants at an affordable price. To schedule a free professional office plant service consultation for your Utah business, contact us today.