Business Interiorscapes: 5 Ways to Get Creative
Business interiorscapes can brighten up the workplace, improve the indoor environment and boost staff productivity. So, it's no surprise that more northern Utah offices are embracing the interiorscape trend.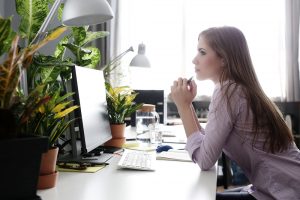 Indoor plants can easily sit on a desk or shelf, of course. But why not consider something a little different for your business interiorscapes and plants?
No. 1: Use Interiorscapes & Plants as Part of the Furniture
Why put a plant on a table when you can make a design statement and make the plant an actual part of the furniture? Indoor plants can be installed in the center of round or oval tables, or placed in a trough in the middle of a rectangular or square table. A range of custom furniture and planter options are available, or your interiorscape professional can recommend ways to modify your current furniture to create built-in planters.
No. 2: Incorporate Living Vertical Gardens
Another interesting way to add indoor plants to your workplace is by creating a living wall. Vertical gardens offer a dramatic visual punch, whether they cover an entire wall or provide a smaller focal point for an office. Living walls are particularly well-suited for businesses with limited floor, desk or counter space.
No. 3: Go Higher with Business Interiorscapes & Plants
When thinking about the placement of your office plants, look upwards. Adding a few hanging baskets or allowing vines to drape down from the tops of tall cabinets or shelving units might just be the ideal way to bring nature indoors, without sacrificing much-needed space.
No. 4: Divide the Business Interior Space
A large, open office area can look rather sparse unless you break it up somehow – and indoor plants are a great solution. A grouping of planters can divide the space, while at the same time making your business look friendly and inviting.
No. 5: Hide Imperfect Business Interior Elements
Regardless of how well your office building was designed, chances are you have at least one or two structural features that you could do without seeing every day. With a few strategically-placed interior plants, you can easily hide the unattractive elements and boost the beauty of your business.
Interested in a custom plant design that perfectly suits your office décor, meets your company image and fits into your budget? That's exactly what you'll get when you allow Living Creations to handle your business interiorscape.
As a leader in the Salt Lake City area office interiorscape industry for decades, the professionals at Living Creations are known for providing exceptional customer service and high-quality business interior plants at an affordable price. To schedule a free consultation, contact us today.